Healing the Pelvis: Class #2
w/ Pamela Samuelson
Class #2 is a deeper dive into the somatic and energetic practice of reconnecting with our pelvises and all that they hold. We build upon the sensing, grounding, connecting, and releasing we began in the first class. Together we create a safe, supportive container for Pamela to guide the group on a quiet, tender journey into the animal truth of our bodies, helping heal the pelvis. This practice is appropriate for all humans, all bodies, all genders. 
*The Taoist refer to the pelvic bowl as the "Cauldron of Desire" in recognition of its energetic power.
the educator
Pamela Samuelson
Pamela Samuelson (she/they) is a certified somatic sex educator, a multidisciplinary bodyworker and embodiment coach specializing in trauma-informed pelvis care and who's work includes somatic therapy, a feminist health and sexuality advocate, a full spectrum doula, the founder of the Feminist Health Alliance, Sex Ed for Grown Ass People, and Take Back the Speculum, and the mom of a nearly-5 year old daughter. She is based in Los Angeles, CA.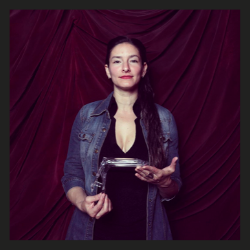 "My belief is in the blood and flesh as being wiser than the intellect. The body unconscious is where life bubbles up in us. It is how we know that we are alive, alive to the depth of our souls and in touch somewhere with the vivid reaches of the cosmos."
– D.H. Lawrence