We put so much emphasis on orgasms, but we forget the importance of foreplay! In this virtual classroom we talk through kinky things to do in the bedroom, erotic foreplay, foreplay positions and more! You'll leave this class with some new skills to try with yourself and/or a partner. Let's go!
You'll learn:
You're own understanding of foreplay and sex

What your "breaks" and "accelerations" are

New arousal techniques for yourself and/or partner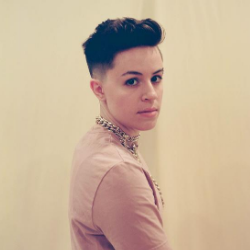 The Teacher
Tuck Malloy is a queer non-binary sex educator with a background in global feminisms, intersectional feminism, sexual assault and domestic violence advocacy, and youth education. In the past 4 years, they have worked to create online classes, workshops, and resources to reduce sexual, body, and relational shame for all individuals and in our society. They believe that investigating sensual, sexual, and relational dynamics in our own bodies and between one another is a pathway that can be utilized to understand and destabilize structural and interpersonal oppression and lead us to more self-actualized, loving communities. Through this extensive experience, Tuck explores the importance of foreplay in intentional pleasure!