Intuitive Eating (Part 1 + 2)
w/ Nimisha Gandhi
For many of us, our relationship to food is complicated. We don't know about you, but soooo much of our headspace can be crowded with thoughts like: What am I eating next? Am I eating too much? Am I going to get fat if I eat this? And how many of you have eaten the entire carton of ice cream or box of cookies after a bad day? We're tired of being in a battle with ourselves about food. We want to feel good and be nice to ourselves. That's what this class is here to help with!
Part 1:
Foundation
Understand how food actually works in the body; when it nourishes or depletes our gut microbiome. Learn about the gut brain connection and how to start listening to what it's telling us. Take home practices to increase awareness around your relationship to food and eating.
Part 2:
Practice
Reflect on your deeper emotional relationship to food and begin to design a framework to become an intuitive eater! Learn journaling + mindfulness exercises, tips to deal with cravings and food aversion, boundary setting, snack + nutrition suggestions and more...
"When our gut is not working properly, it affects our mental health, skin, fertility, energy levels..."
the educator
Nimisha Gandhi
Nimisha Gandhi is a functional medicine nutritionist, Ayurvedic counselor, Yoga Nidra/meditation teacher, and former tech founder. She holds a B.S. in pre-med Psychobiology from UCLA and has years of additional education in her field. In Nimisha's private practice, Moon Cycle Nutrition, she specializes in fertility, pregnancy, and postpartum care with an emphasis on the mind, body, and soul. Nimisha combines functional medicine nutrition with ancient Ayurvedic principles to help her clients find deeply personalized eating and lifestyle plans.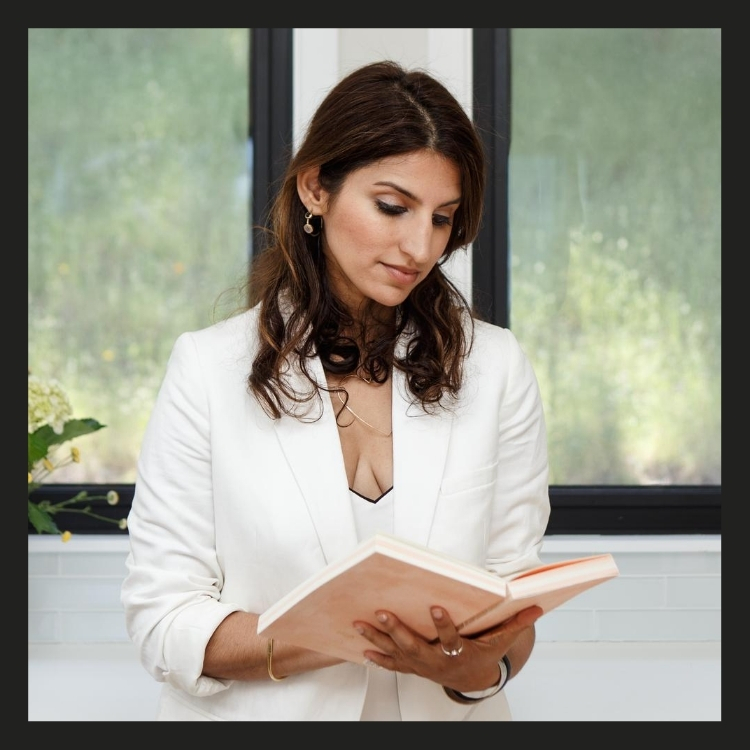 "Those intense cravings we get for certain foods are usually just our body asking for nutrients."
Available in days

days after you sign up

IMPORTANT INFORMATION: ALLBODIES IS MOVING PLATFORMS FOR CLASSES
Available in days

days after you sign up

Part 1: Learning
Available in days

days after you sign up

Part 2: Learning