Some of the most common Qs we get over here at Allbodies HQ has to do with periods and natural remedies for PMS. So, this is your virtual classroom to learn how to improve PMS symptoms like PMS bloating, PMS pain, PMS fatigue and more!
Our menstrual cycles can tell us SO MUCH about our overall health and hormonal imbalances. While every body's normal is different, it's essential we learn our own normals so that we can detect when something is off.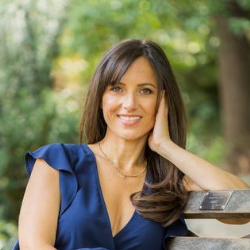 The Teacher
Nicole Jardim is a Certified Women's Health Coach, writer, speaker, mentor, and the creator of Fix Your Period, a series of programs that empower women to reclaim their hormone health using a method that combines evidence-based information with simplicity and sass. Nicole is the author of Fix Your Period: 6 Weeks to Banish Bloating, Conquer Cramps, Manage Moodiness, and Ignite Lasting Hormone Balance. She's the co-host of The Period Party, a top-rated podcast on iTunes—be sure to tune into that if you want natural remedies for PMS —and has been called on as a women's health expert for sites such as The Guardian, Well+Good, mindbodygreen and Healthline.