This virtual classroom focuses on somatic therapy, a form of holistic healing to help you with emotional blockage and emotional release.
You likely know by now that our trauma is stored in the body. In fact, your parents' trauma may be stored in your body too...and your ancestors. Geez! We're all like walking sacs of trauma! This is why you may see a mental health professional for years without feeling like you've moved the needle entirely...because there needs to be a release! 
In this class we learn how our body maps emotional wounds and techniques to release, release, release so we can start feelin' more free.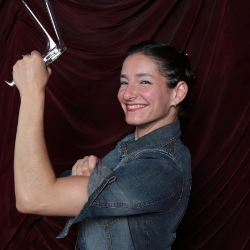 The Teacher
Pamela Samuelson (she/they) is a certified somatic sex educator, a multidisciplinary bodyworker and embodiment coach specializing in trauma-informed pelvic care and who's work includes somatic therapy, a feminist health and sexuality advocate, a full spectrum doula, the founder of the Feminist Health Alliance, Sex Ed for Grown Ass People, and Take Back the Speculum, and the mom of a nearly-5 year old daughter. She is based in Los Angeles, CA.